Lebanon Roofing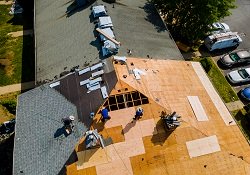 It's safe to assume that because you've come to our website, you either need residential roofing services or want to learn more about your roof. In either case, you've located the ideal solution! Gassert Roofing is a Lebanon
roofing contractor
you can rely on for superior improvements and customer service, at fair pricing, whether you live in a new home that needs a little maintenance and repair or an older property that requires a full roof replacement.
We know how irritating it may be when things break suddenly and inconveniently because we are homeowners too. These days, many people have become their own repair professionals thanks to the popularity of DIY projects and instructions found on TV and online. Despite how simple the guide made it seem, not every project is for the typical homeowner, even though it's a fantastic opportunity to save some money, learn something new, and feel accomplished.
When in Doubt, Contact a Qualified Roofer in Lebanon
Your roof can sustain damage in a variety of ways, but the shingles are typically the issue. The condition of your roof's shingles may reveal a lot about what is going on above it. For instance, even a single missing shingle qualifies as roof damage. There is no need to be alarmed if it just happened, but if it is not fixed right away, it might lead to serious issues on your property, such as water damage. At the same time, your roof may be nearing the end of its useful life if your shingles are beginning to crack, bend, curl, or rip.
Hail and wind damage are two other prevalent roofing issues that we often see in Lebanon, Pennsylvania. Finding out on your own is not always the simplest process, though. During a severe hailstorm, the majority of individuals do not consider their roofs. but you should as a proactive homeowner.
When strong winds are driving the hail, even little hailstones can do significant damage to your property. But it's the big hail that truly threatens your house, especially the roof. In either case, having a reliable roofing contractor evaluate your house after a significant weather event is the greatest thing you can do to safeguard it.
Annual Roofing Inspections in Lebanon
An integral element of house maintenance is making sure your roof is completely waterproof. Gassert Roofing provides free, thorough roof inspections anytime they are required. We'll inspect your roof thoroughly to check for any weak points that might result in water leaks, mildew, or other issues.
Annual roof inspections should uncover most issues early. However, at some point, each and every roof will need to be replaced with new materials. Contact us so we can talk about your alternatives if you're thinking about replacing your roof.
Roof Replacement
You can be confident that Gassert Roofing will provide the greatest craftsmanship and customer service in the area when you hire us to handle your home roof replacement. Our certified roofers are devoted to providing the greatest quality work, and they are informed and experienced. Rather than looking for another roofing contractor in Lebanon, put your faith in Gassert Roofing. You will then have a sturdy, safe roof over your head for many years.
Roof Repair in Lebanon
Regardless of whether you have discovered a roof leak or another problem, we advise finding a specialist that can offer trustworthy roof repair and replacement services. In the event that you experience any kind of roofing issue, big or small, you can count on our prompt and professional repair services. We can complete a little roof repair or a complete roofing system replacement on time and on a reasonable budget. If you need reliable roofing services in Lebanon, Pennsylvania, give the experts at Gassert Roofing a call.
Reliable Roofing Contractors in Lebanon
In your local area, Gassert Roofing is a specialist in residential roof-related services. GAF Materials Corporation has taught us about the newest ways to install roofs, how to use their products, and how to use the latest roofing techniques. Ask the qualified experts from Gassert Roofing for assistance if you're looking for the most effective roofing solution.
If there is a problem that needs to be fixed or if your roof is functioning as it should, our trustworthy roofers in Lebanon will let you know. Before hiring a home renovation contractor, check their licensing, insurance, and BBB rating. To see our A+ rating from the BBB,
CLICK HERE
.
Call Us For All Your Lebanon Roofing Needs
For more than 35 years, Gassert Roofing has provided trustworthy residential roofing services to Lebanon locals. Only the best roofing materials, which will strengthen and beautify any residential property, are used by us. In order to ensure that your roofing project is waterproof and long-lasting, we strive to surpass all of our client's demands and expectations. To contact a member of our helpful staff right now, dial
(717) 273-0703
.